Winooski (Chittenden County)
Winooski Natural Area (Casavant Natural Area)
Town #50
It seems a bit silly that I hadn't birded in Winooski for this project before now- it's only a couple of miles from my office, and I've birded the south (Burlington) side of the river numerous times since I started working in Burlington again.  Still, Winooski is both urban and a very small place in terms of land area, and bird-friendly open space is tough to come by.
That said, I'd driven past this sign hundreds of times without ever really making note of it.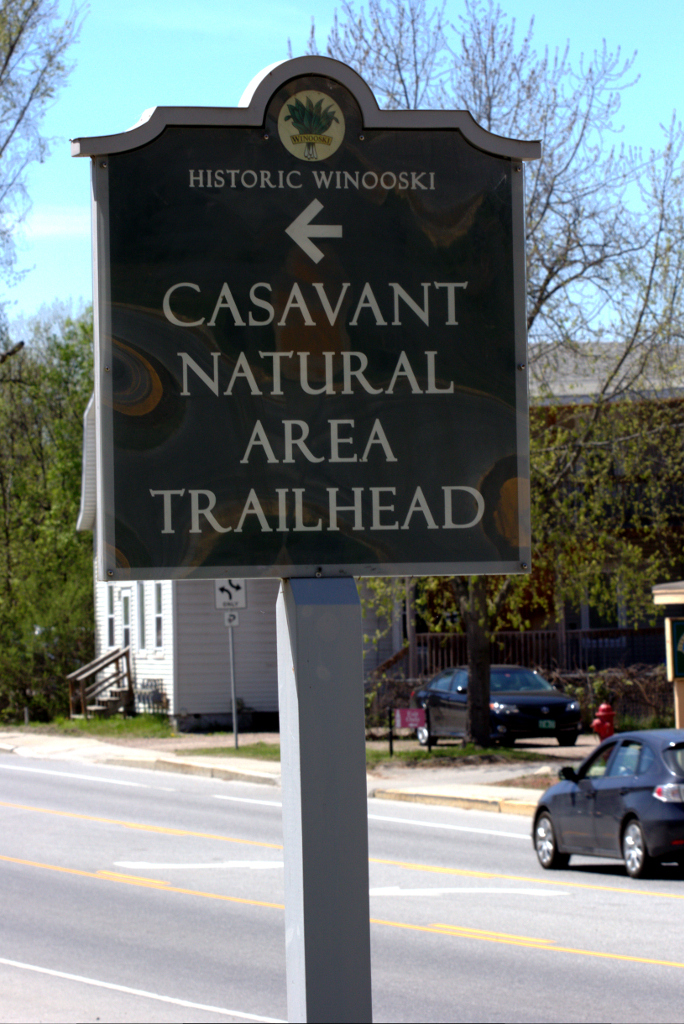 Turns out this is a pretty decent spot!  There's mix of habitats, including a large cattail marsh, a short powerline cut, mature hardwood forest, a few stands of white pine, and an extensive silver maple-ostrich fern river floodplain.  The trails are well maintained and I was surprised by how clean everything was given the urban location (maybe because we're just a few weeks post-Green Up Day).  I assume the nice condition of this place is the work of the Winooski Valley Parks District.  Thanks, folks!  There's even a really neat trail stabilization technique that I've never seen before: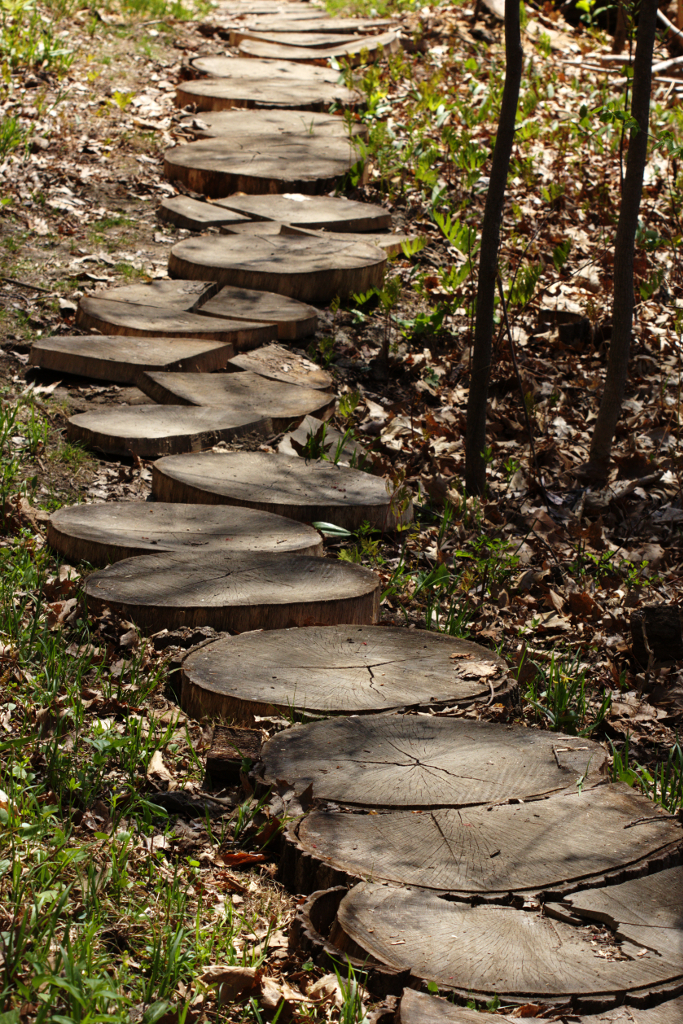 It being spring ephemeral season, I was watching for wildflowers as much as I was for birds.  Trout lily was abundant, and wood anemone and large white trillium were also in bloom.
I also encountered a solitary sessile bellwort, probably my favorite wildflower this time of year.
There were plenty of birds to be found as well.  Just off the parking area there was a blackburnian warbler, and at the margins of the cattail marsh yellow warblers, common yellowthroats, red-winged blackbirds, and common grackles competed for attention.  Bird-sized insects were a further distraction, such as this Carolina grasshopper (I think- the notch in the pronotum is very shallow compared to any images I've found of these).
Down in the floodplain there were American redstarts singing their cryptic song, a solitary Baltimore oriole, and warbling vireos.  A great egret angled at the west end of the trail where it crosses a substantial footbridge to return to downtown Winooski.  From this vantage I could also see a pair of double-crested cormorants taking advantage of the low water on the rocks in the middle of the Winooski River, which is mighty here even in a dry spring.  Here's a lousy photo, but the best I've ever had of the crests that give these cormorants their name!
Now that I know that this place deserves more birding I hope I'll have a chance to return often this summer.  Despite the fact that it was a sunny day in mid-May over the lunch hour, I encountered few other humans and dogs beyond a group foraging for ramps and fiddleheads down by the river.  It's not the most peaceful spot (being hard up against the Interstate and Route 2 and also in the flight path of the airport), but it's much larger and more diverse than I expected to find in Winooski.
The list:
Canada Goose (4)
Double-Crested Cormorant (2)
Great Egret (1)
Ring-Billed Gull (3)
Hairy Woodpecker (1)
Warbling Vireo (2)
American Crow (2)
Black-Capped Chickadee (1)
Tufted Titmouse (2)
White-Breasted Nuthatch (1)
American Robin (3)
Gray Catbird (4)
Common Yellowthroat (3)
American Redstart (2)
Blackburnian Warbler (1)
Yellow Warbler (6)
Song Sparrow (10)
Swamp Sparrow (2)
White-Throated Sparrow (4)
Northern Cardinal (1)
Red-Winged Blackbird (25)
Common Grackle (5)
Baltimore Oriole (1)
American Goldfinch (8)
Tags: 251 birds, carolina grasshopper, chittenden county, double-crested cormorant, ephemeral, pin cherry, sessile bellwort, trout lily, wildflower, winooski, wood anemone